Enter Your Email to Get The Latest Updates Directly From Babe Winkelman
How are ticks sneaking into your home? The answer is your trusted furry friends.
PET OWNER'S SHOCKING TICK EXPERIENCE
Carol Montie noticed "poppy seeds" began appearing all over the beds, couches, floors. At first, she didn't think much of it, but she soon realized the bloody-thirsty truth...
NEVER UNDERESTIMATE THE LITTLE GUYS
A dog owner near Calabasas California tells her story about ticks and hor she is dealing with having 3 dogs who love the outdoors. Tick season starts in California and the Pacific coast earlier than the rest of the world.
Your pet will not think twice about jumping into a tick-infested area so take preventive measures first. 
What can you do to ensure that your pet remains tick-free?
Seresto® flea and tick collars for Dogs and cats can provide up to 8-months of protection.
A monthly application of topical tick preventative pet products can reduce the chances of tick bites, but collars are more reliable.
These products kill on contact and will stop your pet from bringing tick into your home.
Immunization for Lyme disease combined with monthly tick preventive treatments will give your pet the maximum protection needed.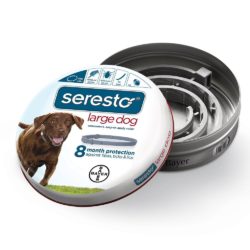 Bayer Seresto® Flea and Tick Collar for Dogs, 8 Month Protection
Sustained release technology provides 8-month flea and tick protection.
Veterinarian recommended collar repels and kills fleas and ticks.
Provides non-greasy, odorless flea and tick prevention insecticide.
Preventive medication that repels ticks and stops transmission of disease-causing organisms.
Top rated flea and tick collar eliminate pesky pests.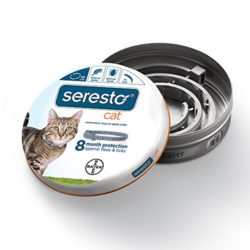 Seresto flea collar for cats, 8-month flea and tick prevention for cats 10 weeks of age and older
IMPORTANT NOTICE: PERMETHRIN IS TOXIC TO CATS PREVENT ALL CONTACT WITH CATS
Easy to use, non-greasy, odorless flea & tick protection, in a convenient 8-month collar
Non-permethrin treated option for tick control
Kills and repels fleas and ticks through contact. No biting required
Veterinarian Recommended
Economical: Compare the cost of monthly treatments to Seresto®
The Seresto ® cat collar has a two-way release feature that allows your cat to get out of tight spots.
Each time a pet leaves the house a tick(s) could have latched on to hidden areas. Be sure to groom and check your pets for ticks every time they come back inside the house.
Do you check your pet for ticks often enough? 


Always groom your pets after they come back into the house. It is much easier to feel for ticks rather than look for them.
A very common way ticks access your home is being carried inside by your pet.
Attached ticks are extremely difficult to see especially if covered by thick fur.
PetEdge™ Flea and Tick Shampoos
A Wide Variety of Flea and Tick Control Shampoos to Fit Your Needs!
IMPORTANT NOTICE: PERMETHRIN IS TOXIC TO CATS PREVENT ALL CONTACT WITH CATS


PetEdge's shampoos kill fleas and ticks naturally and keep pets smelling fresh and clean.
Single bottles and bulk options available 
Many shampoos contain EPA-registered insecticide designed not to harm a pet's skin or coat
Safe to use on dogs and cats
PREVENTING CONTACT WITH TICKS
The first line of defense for you and your pet is to simply avoid any contact with known tick risky areas or wearing tick repellent clothing when you are in these areas.
How do I stop ticks from biting in the first place?
Put permethrin-treated clothing on them while around wooded areas, dense undergrowth, and tall grass.
Fence off known tick areas with a solid or invisible fence.
Your pet is the safest in the middle of your yard while the edges they have a much greater chance of coming in contact with ticks.
Perimeter sprays are the most effective way to keep ticks out of your yard. LEARN MORE ABOUT PERIMETER SPRAYS
Insect Shield for Clothing & Gear for Pets!
Permethrin-Treated Bandanas, Neck Gaiters, T-shirts, and Dog Beds!
IMPORTANT NOTICE: PERMETHRIN IS TOXIC TO CATS PREVENT ALL CONTACT WITH CATS


Repels mosquitoes, ticks, ants, flies, chiggers, and midges (including those that can carry dangerous diseases such as Lyme, malaria, Dengue fever, and Zika virus)
EPA Registered
Repellent last as long as the expected lifetime (70 washes for apparel)
ROUTINELY TEST YOUR PET DURING TICK SEASON
Ticks can be equally as harmful to animals. If you know your dog has been exposed to ticks, test your dog about 4-6 weeks after the exposure. K9myLymeTest™ makes it easy to perform routine Lyme disease tests in order to catch – and treat – Lyme disease before your dog is symptomatic.
Get your pet tested without a costly visit to the veterinarian!
Early detection is key to making a full recovery
The K9myLymeTest™ kit contains everything needed to collect a blood sample from your dog from the comfort of your home
Don't rely on seeing symptoms. Symptoms of Lyme may not appear for 2-5 months